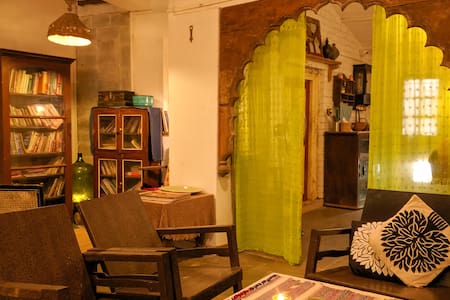 Отдельная комната · 2 гостя · 1 кровать · 1 отдельная ванная
Adiem Homestay - A Real Homestay Experience
Adiem homestay is a bungalow standing in the middle of tall apartments & blocks on either side trying to muscle it's green way and linger on as gets surrounded by the concrete, hardened present and future. Redefining hospitality and love, a place with distinct characteristics, no single piece of new wood, recycled - reused concept, environment friendly. Ethnic and organic with lovely music and reading corners, vernacular food . A unique home with it's own DNA in the heart of the city.
Located right near the junction of Pathardi Phata, which is the first entry into Nashik City centre area as well as the first access for people wishing to go to Shirdi, Devlali, Trimbakeshwar and other top destinations of Nashik City. The place has great open views of nearby parks and hills which can be enjoyed from 2 large balconies.
Cocoon Stay is a farmhouse located amidst greenery. Cocoon retains and enhances the natural elements architecturally –the skylight, the wind and the greenery. The earthy color palette, accent artwork, spacious/ ventilated rooms take you to experience leisure. And if you love to indulge in a bottle of wine at times, you won't be disappointed to know that we're just a few minutes away from Sula Vineyards! Visit, live, and fall in love with Cocoon!