Вилла целиком · 6 гостей · 3 кровати · 3 ванные комнаты
A peaceful getaway amongst nature, in Karjat.
Please see guest ratings and testimonials for this villa when you do a search for Pinglas, Maharashtra. Beautiful 3 bhk villa with a lush garden. A ideal space to relax with family and friends. 2.5 hours from Mumbai. The complex has 2 flowing rivers which are in spate during the monsoons with abundant greenery. The villa has a large deck that is ideal to relax in the evenings and listen to music and have drinks of choice.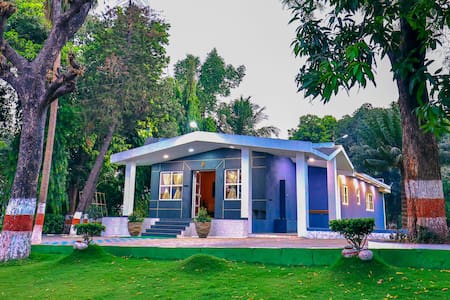 Вилла целиком · 12 гостей · 4 кровати · 3 ванные комнаты
MONTERIA PINE WOODS, 3BHK POOL VILLA, GREENERY
Amid greenery and loads of trees surrounding the villa, it is a perfect place to unwind for family and friends.
Designer Bungalow in Karjat is spread across a plot area of 9000 sq ft. This beautiful property is set on a hill top facing a river and unspoiled mountainous view. The Villa is 5000 sq ft, fully furnished with Ensuite bathrooms in each bedroom along with Air conditioning. Each bedroom has unique features with the lower bedrooms over looking the Pool, while the upper rooms each having private terraces and fabulous views. The Living area is casual and spacious, with balconies set on either ends. Plenty of plants adourn the area along with a wooden dining table which can serve 8. The kitchen is fully equipped with cleaning services available at all times. The pool is 30 ft in length and it overlooks the garden and outer landscape. This villa is extremely private and ideal for a quick getaway from the hustle of city life.