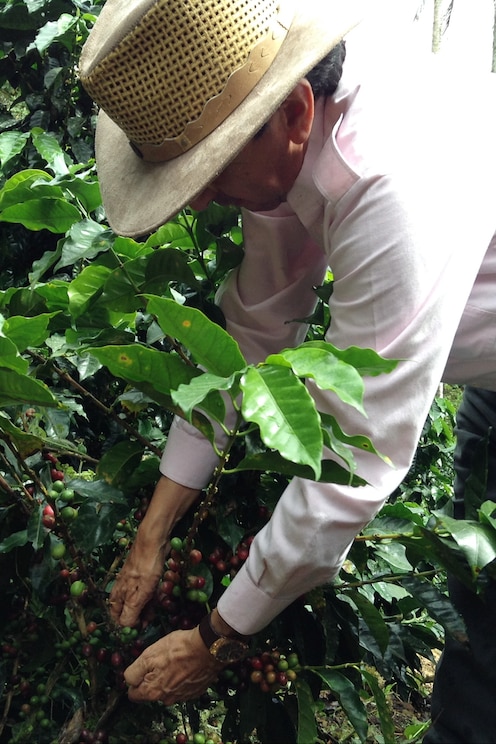 Coffee Culture and the Cloud-Forest
Coffee Culture and the Cloud-Forest
We will meet at 8:00 and drive, pass the middle of the world, to the Cloud Forest, on the Pacific Ocean side of the Andes, to the town of the Yumbos: Tulipe. On the way we will talk about nature, history and culture build upon farming, and its social and environmental impacts. We will make a stop at a local coffee…
Продолжительность
10.5 часов
Включено:
Equipment, Transportation, Drinks, Food
Языки, на которых проводится Впечатление
Английский

Breakfast at a local coffee shop. Home cooked, healthy lunch, with local natural ingredients from a town´s lady. (please let…

The traditional farm´s coffee and some others, and plenty of water.

Private transportation. The size of the transportation may vary up the size of the group.

Rubber boots and farming equipment.
I am Gonzalo, and I am an agronomist since 2005 and a professional tour guide for the last 15 years. I am an NYU graduate on tourism management. I have guided all around my home country for some important local and foreign travel companies. As agronomist, I have worked on sustainability, quality certifications and exports, with more than a 100 farmers in Ecuador and Chile, for the last 10 years. I manage an organic coffee farm located in the Cloud Forest northwest from Quito. I like to research, create and apply new technologies... designing and building things. I enjoyed my agronomy thesis work on biological control, designing a system to mass-reproduce a parasitoid micro-wasp that attacks the leaf mine flies, pest of many crops. Observing nature´s deep connections and relations is fascinating, I love how intricate they can get to be.
El Guayabal is a small, very comfortable, countryside farm, located in the Cloud Forest of the Andean Choco biosphere reserve, very close to Quito. Our policy is of harnessing what is available and save resources: energy and fertilizers through cow dung digestion, weed control with sheep, gravity irrigation, biological pest control with natural enemies, among other things, while rewarding labor work and knowledge, and create a good social impact.
При отмене бронирования любого Впечатления в течение 24 часов после оплаты вы получаете полный возврат.
Общайтесь только через Airbnb. В целях безопасности не переводите деньги и не общайтесь за пределами сайта или приложения Airbnb.
Максимальное число гостей в возрасте от 5: 10.
Удостоверение личности гос. образца
Вам необходимо сделать селфи, соответствующее фото в вашем удостоверении личности. Это делается для того, чтобы Airbnb мог удостовериться, кто именно собирается участвовать во Впечатлении. Достаточно сделать это один раз.
посещение фермы
Coffee Culture and the Cloud-Forest
Новинка!